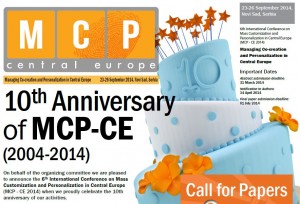 Die eingereichten Paper zur MCP-CE 2014 durchlaufen einen Review-Prozess. Aufgrund der Kommentare der beiden Revieer haben wir unser Paper aktualisiert und verschiedene Argumente noch deutlicher herausgearbeitet. Mit manchen Hinweisen waren wir allerdings nicht ganz einverstanden – doch das ist in der Forschung häufig so. Immerhin haben wir nun auf der Konferenz die Möglichkeit, unser Paper vorzustellen und unsere Ideen zu "verteidigen". Unser Paper heisst jetzt (leicht angepasst):
Chatzimichailidou, M. M.; Freund, R.; Dokas, I. (2014): Distributed Situation Awareness as a 'middleware' between the New Economic Sociology and Embedded Open Innovation
Ich freue mich sehr, die vielen bekannten Gesichter aus verschiedenen europäischen Länder wiederzusehen, und neue interessante Personen auf der 6. Konferenz zu dem Thema zu treffen. Manchmal kann ich es noch gar nicht glauben, dass die in 2001 entstandene Idee langsam aber sicher zu einer etablierten Konferenzreihe geworden ist.