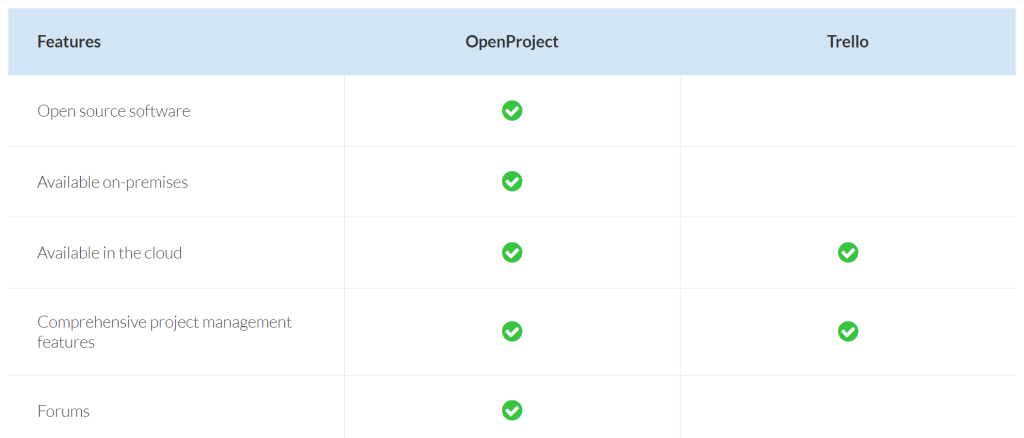 Gut, Vergleiche hinken immer wieder einmal, doch macht es Sinn, sich mit verschiedenen Werkzeugen im Projektmanagement auseinanderzusetzen. An dieser Stelle möchte ich nicht OpenProject mit MS Project, sondern mit Trello vergleichen. In dem englischsprachigen Artikel OpenProject vs Trello vom 11.05.2023 wird deutlich, dass Trello seine Stärken bei Boards hat, und daher auch für Projekte genutzt werden kann.
Wird es allerdings komplexer, zum Beispiel in Richtung agiles, hybrides und planbasiertes Projektmanagement wird es schon schwierig bis unmöglich, alle Adaptionen des modernen Projektmanagements abzubilden. Darüber hinauskommt noch dazu, dass OpenProject ein Open Source Tool ist, bei dem die in den Projekten generierten Daten bei Ihnen bleiben (Datenschutz), wenn Sie OpenProject auf Ihren Servern installieren – ein in Zukunft immer wichtiger werdendes Kriterium.
In conclusion: Trello offers several fast and simple options for issue tracking. Optionally team members can be invited. It is an excellent choice for managing individual projects or small teams.. OpenProject has a comparatively steeper learning curve than Trello. However, it has a stronger focus on project management and provides significantly more features. This includes Gantt charts and time / cost tracking. As a result, OpenProject excels in particular when working with larger teams or when managing multiple projects" (ebd.).

Wir haben OpenProject auf unseren Servern installiert und in einem Open Source Ökosystem integriert. Die Möglichkeiten von OpenProject zeigen wir in den von uns entwickelten Blended Learning Lehrgängen Projektmanager/in (IHK) und Projektmanager/in AGIL (IHK). Informationen zu den Lehrgängen und zu Terminen finden Sie auf unserer Lernplattform.