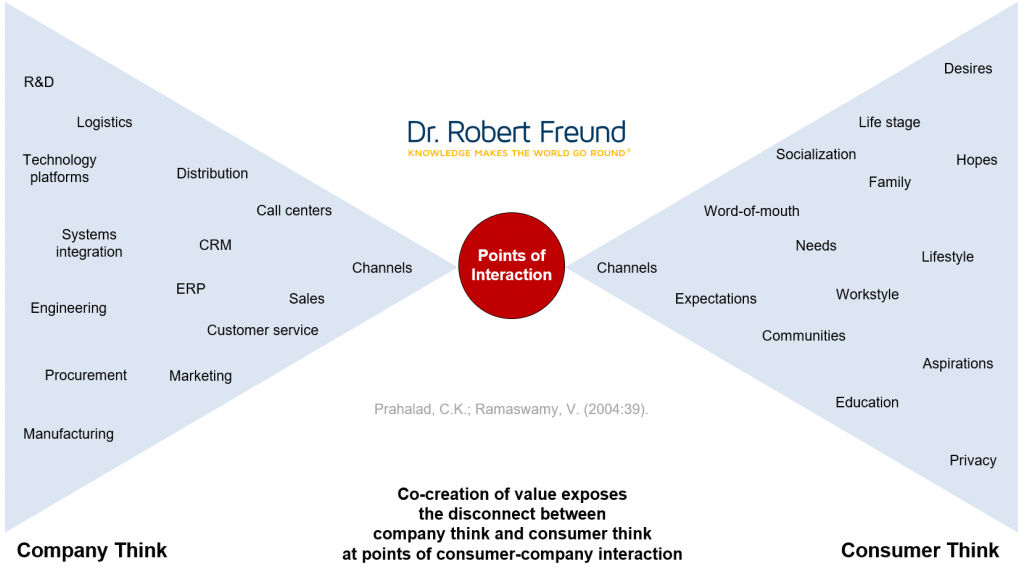 Traditionell bieten Unternehmen ihre Produkte und Dienstleistungen in einem Markt an. Dabei werden Unternehmen, Markt und Konsumenten als separate Einheiten gesehen. Dieser Markt wird segmentiert und entstehen Zielgruppen, denen dann diese Produkte und Dienstleistungen angeboten werden. In einem noch stärker segmentierten Markt kommt es zu einem "segment-of-one" (Mass Customization), das heißt, die Wertschöpfung entsteht an den jeweils verschiedenen "point of interaction".
Es stellen sich hier gleich folgende Fragen:
(1) Warum wird der Begriff "Markt" immer noch als drohendes oder heilendes Mantra in Politik und Wirtschaft verwendet, wenn es "den klassischen Markt" gar nicht mehr gibt?
(2) Wie sieht die Wertschöpfung zwischen Unternehmen und Konsumenten/Kunden aus, und wie kann sich jeder darauf einstellen?
Prahalad und Ramaswamy haben dazu folgenden Vorschlag (2004:121-112): "In the emerging concept of a market, the focus is on customer-company interactions – the role of the company and the consumer converge. The firm and the consumer are both collaborators and competitors – collaborators in co-creating value and competitors for the extraction of economic value. The market as a whole becomes inseparable from the value creation process."
Der Markt ist in diesem Zusammenhang nicht mehr ein von dem Unternehmen und den Konsumenten separates Element im wirtschaftlichen Austausch, sondern zentraler Bestandteil im direkten Wertschöpfungsprozess. Das entspricht durchaus dem Entgrenzungsansatz, der aus den Sozialwissenschaften bekannt ist (Beck: Reflexive Modernisierung), und der Konvergenzthese, die in der Diskussion zu Kompetenzen (Betriebswirtschaftlich – Pädagogisch) auf den verschiedenen Ebenen Individuum, Gruppe, Organisation und Netzwerk betrachtet wird.