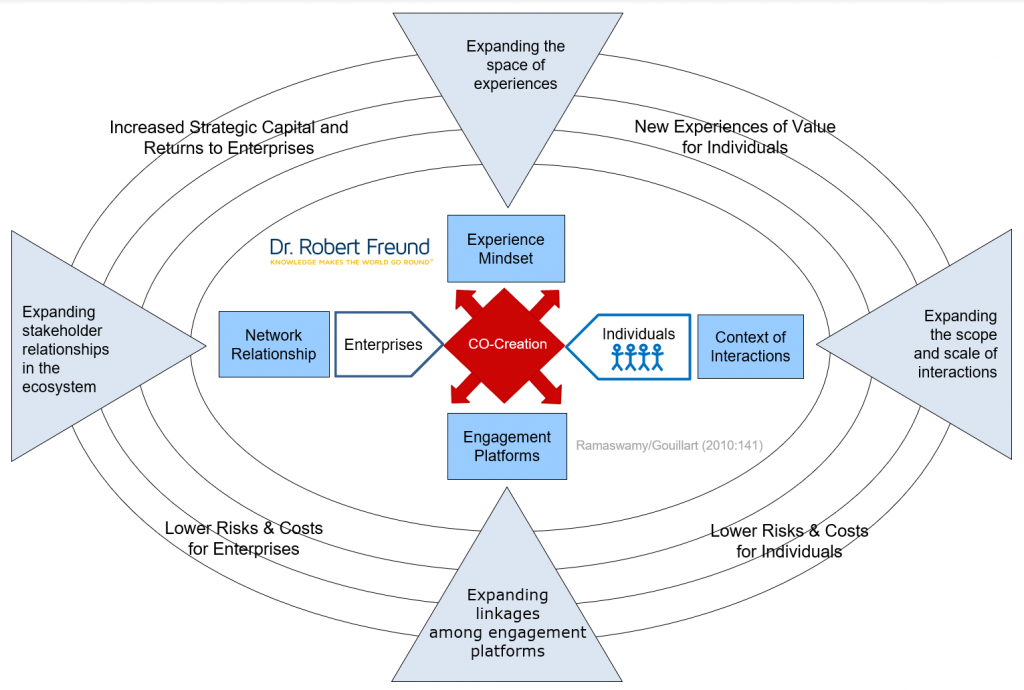 In dem Beitrag zu Point of Interaction habe ich aufgezeigt, dass der Markt von Unternehmen und Kunden nicht separiert betrachtet werden sollte, da der Markt bei jeder Interaction "im Spiel" ist. Nun möchte ich aufzeigen, welche Dimensionen Co-Creation haben sollte. Prahalad und Gouillart haben dazu 2010 eine Skizze veröffentlicht.
In this chapter, we discuss how to reap the benefits of co-creation by expanding interactions among people in business networks. Here again, the core principle of co-creation-engaging people to create valuable experiences together while enhancing network economics-is at play. That is, success will come from using the experiences of each network member, to foster collaboration and communication through the various engagement platforms that enable contextualized interactions across the business network (ebd. p. 96-97).
Auf der Seite der Unternehmen sollten die Beziehungen zu den Stakeholdern (Network Relationship) erweitert werden. Auf Seiten der (individuellen) Kunden kommt es darauf an, Umfang und Skalierung der Interaktionen in den verschiedenen Kontexten (Context of Interaction) zu erweitern. Der gemeinsame Lernbereich zwischen Unternehmen und Kunden kann über Plattformen und andere vielfaltige Erfahrungsräume (Virtuell und/oder Real) wertschöpfend gestaltet werden.
Einige der genannten Punkte werden schon von Unternehmen genutzt, andere wiederum noch nicht. Ein Beispiel dafür ist der Kontext. Ich habe den Eindruck, dass die generierten Daten der Kundeninteraktionen zu wenig den jeweiligen Kontext berücksichtigen. Content is King – but Context rules…