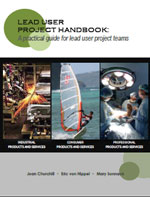 In der Diskussion um offene Innovationsprozesse beschreibt Chesbrough Möglichkeiten, wie Unternehmen durch Open Innovation (Chesbrough 2003/2006) profitieren können. Von Hippel geht noch einen Schritt weiter und betrachtet User Innovation, ohne dabei nur an Unternehmen zu denken (Democratizing Innovation). Dennoch können Unternehmen auch von den Ideen von Hippels profitieren, indem sie z.B. die Lead User Methode nutzen.
"Lead users are individuals – or they may be firms – that are experiencing needs that are ahead of the targeted market(s). Often, they develop product or service prototypes to satisfy their leading edge needs that will be commercially attractive to firms" (Churchill/von Hippel/Sonnack (2009:9)
Insofern sind Lead User von Early Adopter zu unterscheiden. In dem Handbuch Churchill, J.; von Hippel, E.; Sonnack, M. (2009): LEAD USER PROJECT HANDBOOK: A practical guide for lead user project teams gehen die Autoren zunächst auf den Lead User Ansatz ein und beschreiben dann sehr ausführlich, wie Sie entsprechende Workshops oder Projekte durchführen können. Bei Interesse helfe ich Ihnen dabei. Vereinbaren Sie einfach einen unverbindlichen Termin oder melden Sie sich gleich zum Innovationsmanager an. Dort werden diese, und andere aktuelle Themen des Innovationsmanagements besprochen.

Dieses Werk ist lizenziert unter Creative Commons Namensnennung 4.0 international.