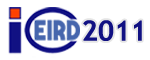 Die ICEIRD 2011 – 4th International Conference for Entrepeneurship, Innovation and Regional Development – findet vom 05.-07.Mai in Ohrid, Mazedonien, statt (Programm-Übersicht) . Die Konferenz wird von Jahr zu Jahr besser angenommen: "We are happy to announce that for the Conference we received 180 papers from almost 400 authors from 42 countries". Meinen Vortrag halte ich am Freitag, den 06. Mai 2011, vormittags (Vorträge):
Freund, R.; Chatzopoulos, C.; Lalic, D. (2011): Reflexive Open Innovation in Central Europe. 4th International Conference for Entrepreneurship, Innovation, and Regional Development (ICEIRD2011), 05.-07. May, Ohrid, Macedonia.
Siehe dazu auch Veröffentlichungen.
Copyright © 2011. All Rights Reserved.