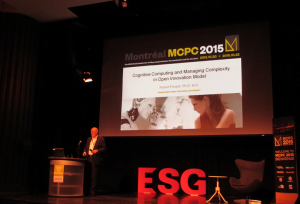 Die Weltkonferenz MCPC 2015 fand vom 20. bis 22.10.2015 in Montréal/Kanada statt. Mein Paper wurde nicht nur angenommen, sondern ich hatte auch die Gelegenheit meine Gedanken in einer Special Keynote vorzutragen. In der Zwischenzeit wurden die verschiedenen Beiträge in den Proceedings zur Konferenz beim Spinger-Verlag veröffentlicht. Vorwort:
Twenty years ago Mass Customization was acknowledged as the "New Frontier
in Business Competition". The first MCPC conference was hosted by
Hong Kong University of Science and Technology in 2001. Since then the
MCPC conference has grown to become the primary conference for presenting
and discussing current issues and recent developments within the fields
of Mass Customization, Personalization, and Customer Co-Creation. The
2015 MCPC conference, the eighth in the series, for which the contributions
are presented in this book, was hosted by the School of Management at the
University du Québec in Montréal, Canada. For this edition, the emphasis
was placed on "managing complexity".
Meinen Artikel finden Sie hier (Siehe dazu auch Veröffentlichungen):
Freund, R. (2016): Cognitive Computing and Managing Complexity in Open Innovation Model, in Bellemare, J., Carrier, S., Piller, F. T. (Eds.): Managing Complexity. Proceedings of the 8th World Conference on Mass Customization, Personalization, and Co-Creation (MCPC 2015), Montreal, Canada, October 20th-22th, 2015, pp. 88-102 | Springer
Copyright © 2016. All Rights Reserved.