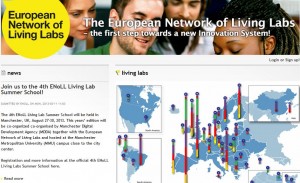 Ein Living Lab ist ein "user-centred, open-innovation ecosystem" (Quelle: Wikipedia). Dabei bezieht sich die Wikipedia-Website bei ihrer Quellenangabe auf Eric von Hippel und Henry Chesbrough. Das ist aus meiner Sicht nicht ganz korrekt, da sich Eric von Hippel viel stärker auf den einzelnen User konzentriert und Henry Chesbrough den einzelnen User mit seinem innovativen Potential eher für die Unternehmen nutzen möchte. Eric von Hippel kann sich dagegen durchaus eine Zukunft ohne Unternehmen vostellen. Dass sich die beiden Perspektiven fundamental unterscheiden hat Eric von Hippel in einem Paper wie folgt beschrieben: " An innovation is 'open' in our terminology when all information related to the innovation is a public good – non-rivalrous and non-excludable. This usage is closely related to the meaning of open in the terms 'open source software' (Raymond 1999) and 'open science' (Dasgupta and David 1994). It differs fundamentally from the recent use of the term to refer to organizational permeability – an organization's ´openness´ to the aquisition of new ideas, patents, products, etc from outside its boundaries, often via licensing protected intellectual property (Chesbrough 2003) (Source: Baldwin/von Hippel 2009:4-5)" (Siehe dazu auch diesen Blogbeitrag). Insofern sehe ich die folgende Beschreibung von European Living Labs eher in der Tradition von Eric von Hippel:
The European Network of Living Labs (ENoLL) is the international federation of benchmarked Living Labs in Europe and worldwide (…). A Living Lab is a real-life test and experimentation environment where users and producers co-create innovations. Living Labs have been characterised by the European Commission as Public-Private-People Partnerships (PPPP) for user-driven open innovation. A Living Lab employs four main activities:

Co-Creation: co-design by users and producers
Exploration: discovering emerging usages, behaviours and market opportunities
Experimentation: implementing live scenarios within communities of users
Evaluation: assessment of concepts, products and services according to socio-ergonomic, socio-cognitive and socio-economic criteria.
Copyright © 2013. All Rights Reserved.